HORN CHARTS FOR SALE
Pop, Rock, R & B, and Jazz horn charts
 I have an extensive library of horn arrangements for sale, from 3 horns only, 3 horns with rhythm part(s), to 6 or 7 horns and full rhythm.  These are, for the most part, note for note transcriptions from the original recordings, and are in the original keys.  The forms of the songs are also, in most cases, the same as the original recordings.  In a few cases, where there weren't horns on the original, original string lines have been adapted for horn section (i.e. My First, My Last, My Everything.)  The instrumentation for the 3 Horn Charts is: Trumpet, Tenor (or Alto), and Trombone.  The larger ensemble charts are for either 6 horns: (2 Trumpets, Alto, Tenor, Bone, and Bari), or 7 horns: (2 Trumpets, Alto, 2 Tenors, Bone, and Bari)  Many of my charts include rhythm section parts as well, either as a Master Rhythm part, or individual parts for each rhythm instrument. (No drum parts in most cases, though)  
 These arrangements have all been used in performance situations, are very accurate, and have been professionally engraved (Finale).   All arrangements are in the recorded key, but keys can easily be changed in most cases to suit your needs.  (Moving the key any more than a whole step would, in most cases, require some re-orchestrating and may involve an extra charge.)  Standard procedure is to email charts as pdf files, but I can mail hard copies on card stock if desired.  
-YOU CAN FIND A LOT OF HORN CHARTS OUT THERE FOR LESS $$$, BUT YOU WON'T FIND ANY BETTER THAN THESE.  THESE ARRANGEMENTS HAVE BEEN PERFORMED AT MANY HIGH PROFILE EVENTS AND CELEBRITY WEDDINGS. ALL ARE PROFESSIONALLY COPIED. IF YOU DON'T FIND WHAT YOU ARE LOOKING FOR ON MY LIST PLEASE CONTACT ME - I CAN DO THE CHART FOR YOU AT A VERY REASONABLE RATE.  
** ON March 9, 2017 I played in the house band for the benefit concert "Love Rocks NYC" that included Will Lee, Paul Shaffer, Steve Gadd, and Shawn Pelton among others.  We backed up a long list of artists: Sam Moore, Aaron Neville, Michael McDonald, Billy Gibbons, Joe Walsh, CeCe Winans, Keb' Mo', Jackson Browne, Derek Trucks, Susan Tedeschi, Warren Haynes, Anthony Hamilton, Dr. John, Bruce Willis, etc. I also did all of the charts for the band.  Links for a few examples of my work from that concert below.
2018 - This year's installment of "Love Rocks NYC" featured the same house band backing up another amazing lineup of artists including Donal Fagen, Ziggy Marley, Keith Richards, Andra Day, Nora Jones, Trombone Shorty, Billy Gibbons, Gary Clark Jr., and Robert Cray among others.  Again I provided all of the band/horn arrangements.  Here are a few videos from the show featuring my charts:
TAKE ME TO THE RIVER - Nona Hendryx & Allen Stone
ON YOUR WAY DOWN - Trombone Shorty
DROWN IN MY OWN TEARS - Andra Day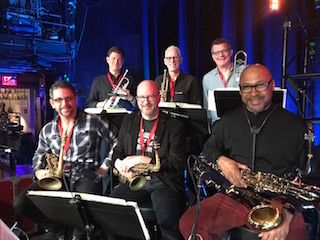 Love Rocks NYC 2018 Horn Section: 
Evan Barker, Jim Hynes, Joe Fiedler,
Andy Snitzer, Aaron Heick, & Ron Blake
________________________________________________
HORN CHARTS
CLICK ON THE LINKS BELOW TO VIEW A LIST OF CHARTS AVAILABLE AND PRICING
***FREE SAMPLE! - 3 HORN CHART w/ Master Rhythm***
(click below)
**FREE SAMPLE! - Cheerleader - transcribed trumpet solo**
(click below)
(click on youtube link below for sample recording of the solo)
https://www.youtube.com/watch?v=vrhryEjqPSs
To order an existing horn chart, or to commission me to do a new one, contact me at evan@evanbarkermusic.com
I will email you instructions on how to make a payment on paypal.com  I also use Venmo.
Upon completion of payment I will email you pdf's of the music.
STRING QUARTET POP ARRANGEMENTS
String Quartet Pop Arrangements
I have done than 100 string quartet transcriptions/arrangements of pop songs. Many of these are transcriptions of recordings by the Vitamin Quartet.  Click on the link below for an up-to-date list of the titles that I have been commissioned to do. If you are interested in commissioning me to do a string quartet transcription/arrangement please contact me for more info:  evan@evanbarkermusic.com