BIO
Born in jazz-friendly Portland, Oregon, Barker's first serious musical performing experience came playing in the acclaimed Mt. Hood Community College jazz lab band under the direction of Kenton alum Larry McVey alongside talents like Chris Botti and Ben Wolfe. He then transferred to Indiana University, where he studied trumpet with Bill Adam and jazz with David Baker.  At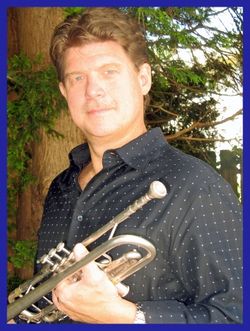 IU, he earned both B.M. and M.M. in jazz performance studies; he was also awarded the prestigious Performer's Certificate for his graduate recital. 

For some years, he remained in the Midwest, where he toured with such celebrities as Andy Williams, the O'Jays, Natalie Cole, Burt Bacharach and Dionne Warwick. Then he relocated to the New York City area, where he has done a variety of music jobs since 1992. These include maintaining an active schedule as a freelance trumpeter, maintaining a private trumpet studio and managing a music-preparation business for recording sessions and movies.

Performance credits include commercial recordings and movie soundtracks. These include "The Alamo" and "Mona Lisa Smile." Barker has also done on-camera work in such other films as "The Object of My Affection",  "Sex and The City II" , "The Pink Panther", and the upcoming film "Joker". He has played in the orchestra pits of many Broadway shows, such as "Aladdin", "Swing," "Fosse," "The Producers," "Ragtime," "The Little Mermaid," "Wicked" and "Jersey Boys." His movie credits also include over 50 film credits for music preparation.
Career highlights also include a number of International venues, including The North Sea Jazz Festival, The Montreux Jazz Festival, Ronnie Scott's and Royal Albert Hall in London. In recent years he has performed with Robert Plant, Heart, Aaron Neville, Joe Walsh, Donald Fagen, Jackson Browne, Warren Haynes, Mavis Staples, Ziggy Marley, Andra Day, Sheryl Crow, Keb Mo and Billy Gibbons. Recent television appearances include performances  with "Weird Al" Yankovic on "Last Week Tonight with John Oliver" and with James Taylor on "The Late Show with Stephen Colbert".
© 2019 Expresso DTP
expressodtp@verizon.net